1 pair 2.4m (94") peacock-green-yellow green belly dance silk fan veils
Fastest delivery 2023-10-04
1 pair (1R+1L) silk dance fan veils made of real silk and bamboo.
If you wish to have both pieces right hand, please leave a comment with your order.
Fluid and graceful
Praise dance, bellydance or just for fun, the fan veil is a gorgeous prop that many dancers incorporate into their routines. They bring a floaty, fluid and exciting element to the dance and are so much fun to work with.
Silk
Hand painted vibrant colors with soft gradations.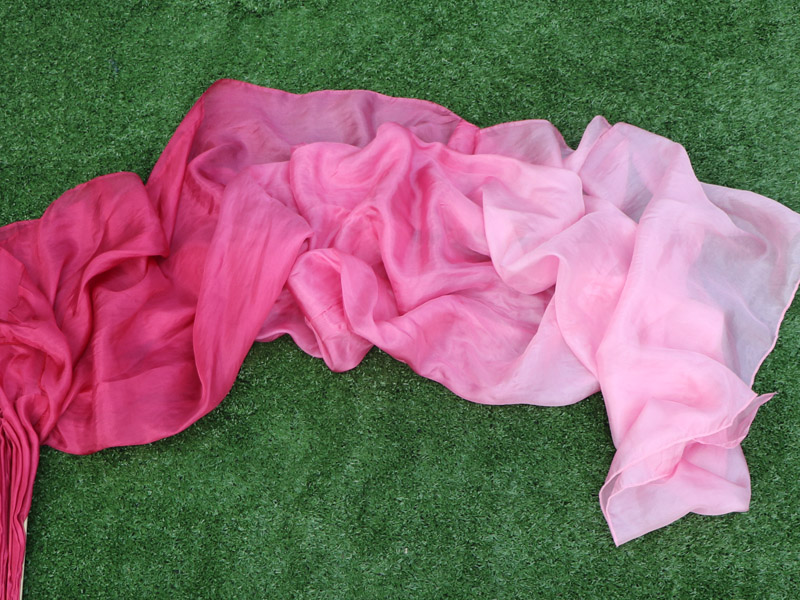 Hemming
Necessary edges are hemmed to prevent fraying.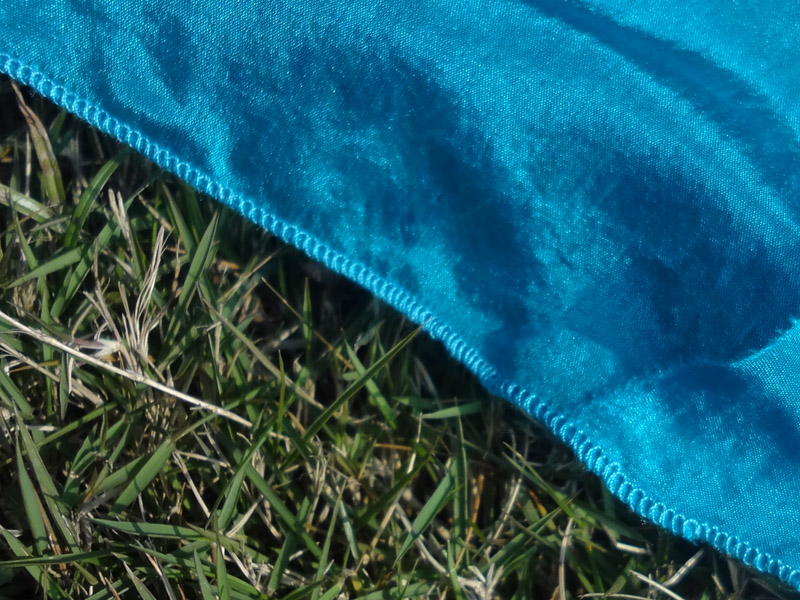 Bamboo
Comfortable bamboo staves
Bamboo handles are wide and thick for a comfortable grip. Carefully polished and inspected for splinters. They're curved so they won't hurt your palm.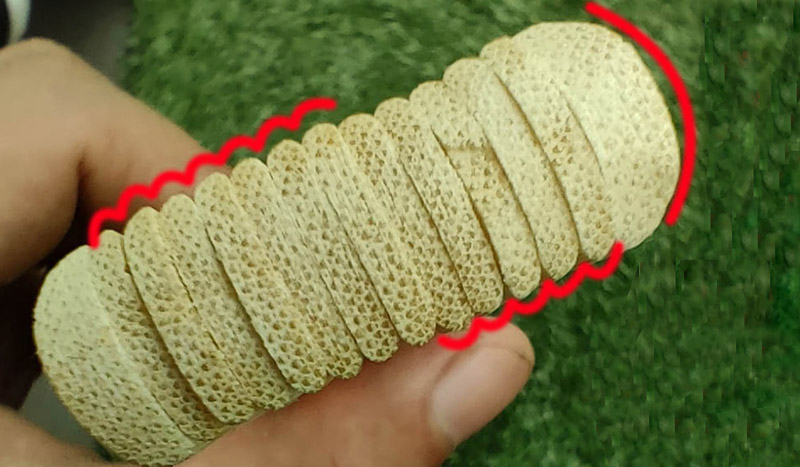 Screw rivet (optional)
Allows you to adjust the tightness and even change the opening direction of the fans by hand without tools. It is only available when you leave a comment.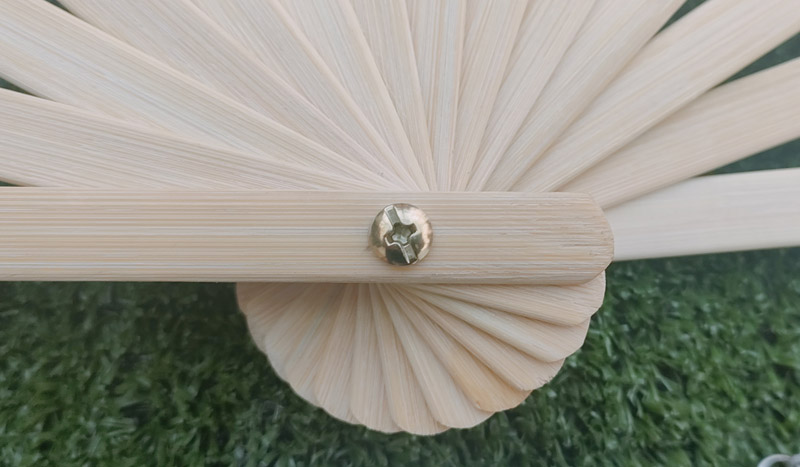 Dimensions
94" (240 cm) long, 35" (90cm) wide silk. 82" (210 cm) silk over bamboo. 12" (31cm) bamboo ribs open to 23" (57cm) wide.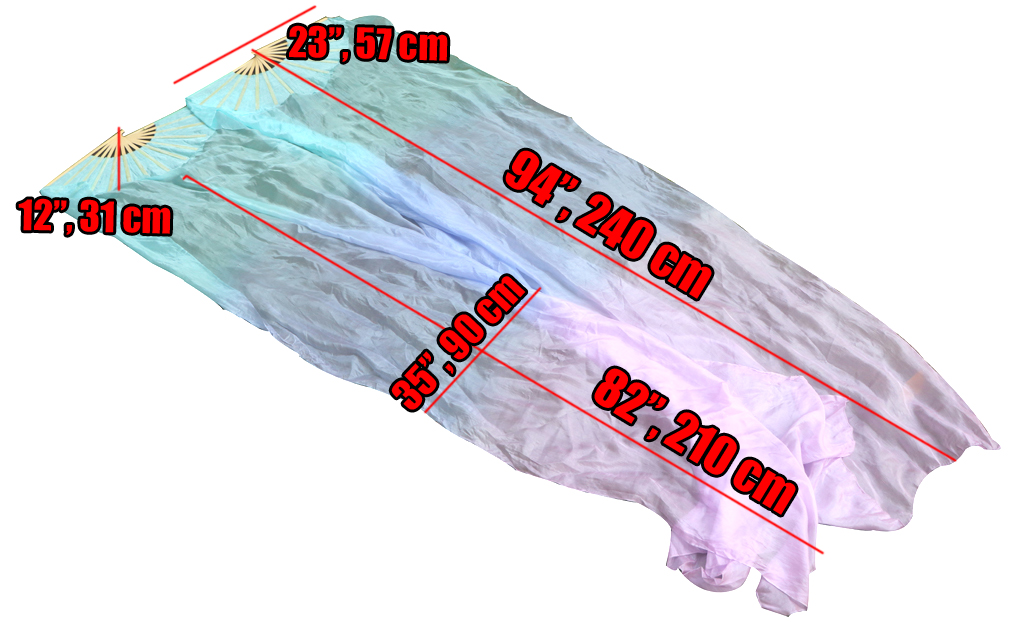 Plastic Gaskets
Some dancers prefer tight fans so they can stay fully open, others want them to open and close more dramatically. Plastic cushions are included to make the fan tighter.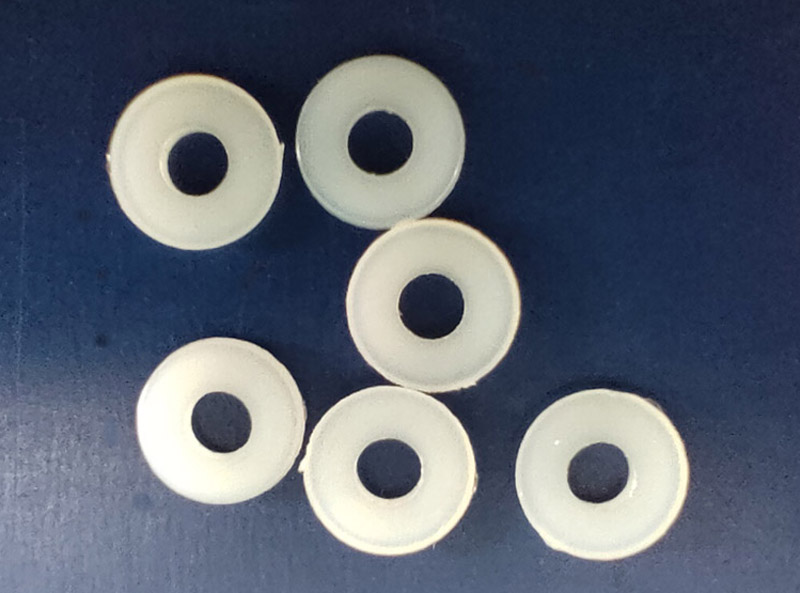 Find them in a small plastic bag that comes with the fans.
Cut them open.
Tie the open cushion around the metal pin that goes through the bamboo.
This is optional. In most cases, the fan will be just fine without the gaskets. But it's recommended to keep them. They also prevent the pin from sinking into the bamboo hole.
Carry bags included
Each pair of fans comes with a handy carry bag. We will select the bag in the color that best matches your fans. The bags do not have our logo on them.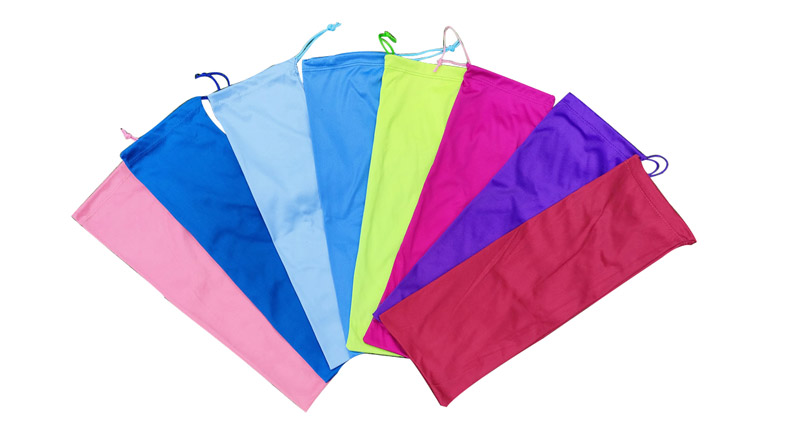 Use and care
We strongly recommend steam ironing the silks when you receive them. When the wrinkles are gone, they will flow much better.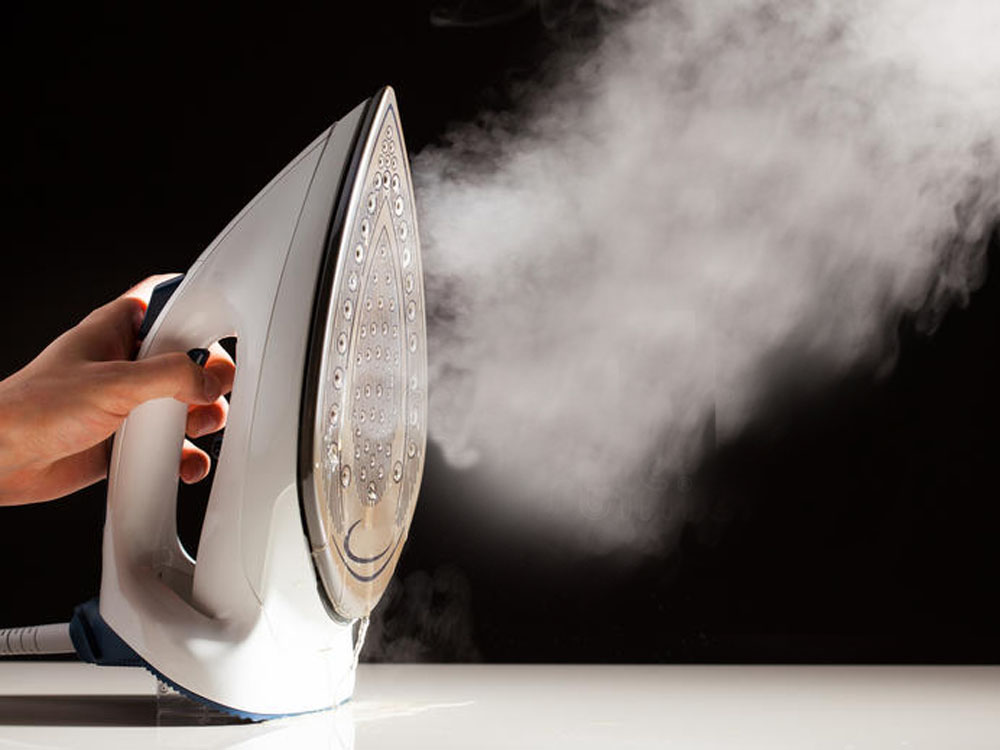 Avoid washing. Keep them away from water (rain, beach). Let them dry before storing them in a bag.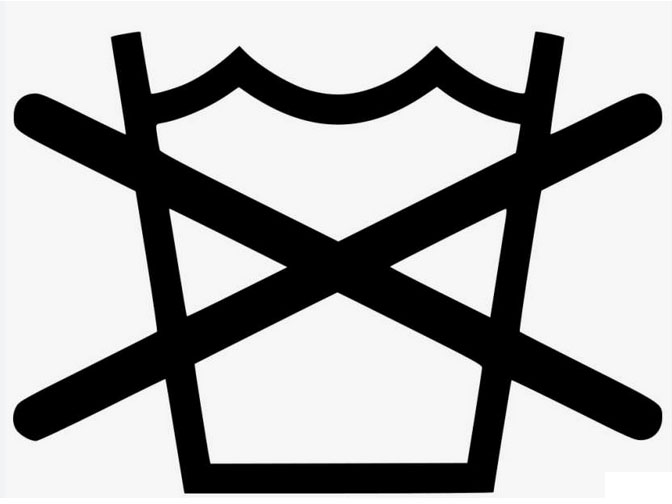 We offer free standard shipping worldwide. Shipping takes:
| | | |
| --- | --- | --- |
| Country/Region | Normally | Bad luck |
| Asia | 2 weeks | 3 weeks |
| US, Canada, Mexico, Europe | 1~2 weeks | 3~4 weeks |
| Russia, Central &South America, others | 3~7 weeks | 8 weeks or even longer |
Our warehouse is located in China. We always try our best to make the fastest shipping within 12 hours after order. However, overseas shipping is subject to so many vagaries that we cannot control. If the items are very important, please choose expedited shipping, which will arrive within 7 business days. To use expedited shipping, please be sure to include your phone number.
Non-EU buyers may have to pay customs fees and VAT (which aren't included in our prices and for which we aren't responsible), especially if express shipping is chosen, although we always declare small values for our customers in the hope that they'll not.
After shipping, we'll send you an email with the shipment number and the website where you can track the shipment.
It's very important that you provide the correct and complete shipping information, because once the order is shipped, we cannot recall it or change the destination.
We won't be able to ship your order in the following cases.
1~Article out of stock
2~Wrong or incomplete shipping address
3~Order fast shipping without providing a valid phone number
4~Order comment has a question. For example, leave a comment on the order like "Can I receive the goods in 3 days?". If you have a question, it's better to ask it before placing the order.
We'll write to you for confirmation before taking the next step.
Please take care of your emails after you place the order, because we'll keep you updated by email. If you don't see our emails, please check your junk mail as well.