spinning silk flag poi 103cm (40") for Worship & Praise, Golden Violet
We improved this product to be more shipping friendly.
1 PIECE (buy 2 to get 1 pair) silk flag poi, which consists of 1 piece finger rope, 1 piece PC plastic rod and 1 piece 5 Mommes silk veil.
Avoid washing the veil. Steaming iron to get rid of wrinkles.
*Images below are to illustrate the characteristics of the type of this item. They may not represent the item itself. "More images" are at the next tab.
Main parts

| | |
| --- | --- |
| Black finger rope with rotatable buckles. | 1 piece resilient PC plastic rod inside the silk veil. |
Silk veil
Hand painted 5mm light weighted silk after special treatment. Vibrant colors and smooth gradation.
Size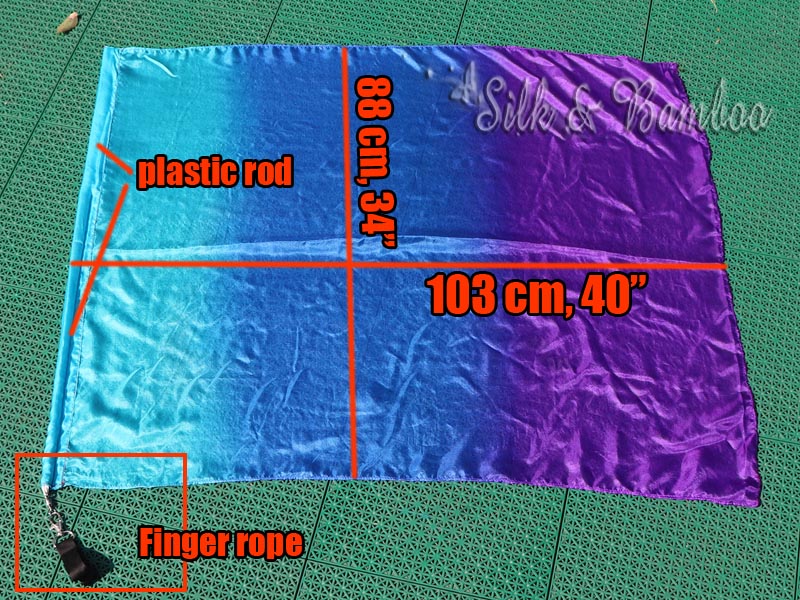 Features
| | |
| --- | --- |
| The rod inside the veil allows the flag to stay open all the time, even when it spins slowly. It also increases the spinning momentum of the flag. Gives you good sense of control. Even a kid can handle this flag. | The finger rope has 2 rotating junctions. The flag spins very smoothly and effortlessly. No matter how long and which direction you spin the flag, it would never wrap upon itself. |
It can be used as a normal flag. Detach the finger rope and you have a normal flag. Pinch the small metal bearing and you can also spin the flag.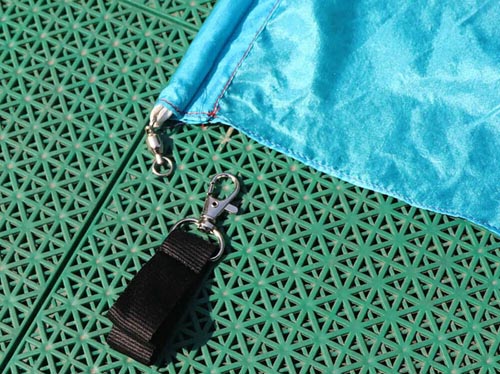 Use and care
Steaming iron to get rid of wrinkles to have the best floating of the veil. Never use a hot iron.
Avoid washing the veils. Silk is thin and fragile. If you have to, gently wash in cold water with mild detergent. Natural dry.
We offer free standard shipping worldwide. Shipping takes:
| | | |
| --- | --- | --- |
| Country/Region | Normally | Bad luck |
| Asia | 2 weeks | 3 weeks |
| US, Canada, Mexico, Europe | 1~2 weeks | 3~4 weeks |
| Russia, Central &South America, others | 3~7 weeks | 8 weeks or even longer |
Our warehouse is in China. We always strive to make the fastest shipment within 12 hours after order placed. However, overseas shipping is subject to so many uncertainties that we cannot control. If the items are of great importance, please select Expedited Shipping, which arrives in 7 working days. To use expedited shipping, please make sure to leave your telephone number.
Buyers may have to pay Customs taxes and VAT (which are not included in our prices and is not our responsibility), especially when expedited shipping is selected, although we always declare small values for our customers in hopes they do not.
After shipment, we will send you email about the tracking number and where to track it.
It is very important to leave the correct and complete shipping information because once the order is shipped, we cannot recall it or change its destination.
In the following situation we cannot ship your order.
1~item out of stock
2~wrong or incomplete shipping address
3~order expedited shipping without providing a valid telephone number
4~order with a question unanswered. For example leave a message with the order like "Can i receive in 3 days?". If you have any question, it is better to ask before placing the order.
We will write you for confirmation before taking the next step.
Please attend to emails after order placed, because we will send you update via email. If you do not see our emails, please also check the junk mails.